golden hour
Baleal, Ferrel, Peniche - july 2018.
24 hours in Tallinn with Fuji X100F
I'm not your usual camera reviewer guy, but I decided to write a couple of words about Fujifilm's X100F that I had with me on our latest trip to Tallinn.
First, let's get back to year 2014 when I was in Willemstad, Curacao with my Canon 5Dmk3, 35L and 50L. I was tired of carrying around the heavy full frame body and big lenses. At that time it was already crystal clear to me what kind of gear I really need for my trips. A fast 35mm lens would cover 99% of my photographic needs. I found myself looking at Leica cameras and other mirrorless options with fast 35mm lens. After some searching I found an interesting looking little camera from Fujifilm - X100S.
So I bought the X100S. After shooting with it in Hong Kong, Portugal, Thailand and many other places I decided to sell it since there were some issues that bothered me. However after some years I started to regret selling it and decided buy it back. This time I bought the newer version - X100F. And luckily I have to say things are nowdays little bit different!
Bokeh!
I don't know if it's the bigger sensor X100F has (most likely yes) or what, but the 3D separation is way better than in the older models. With the X100S I found myself taking extra steps closer to objects when taking portrais to get some good bokeh. And then begun the problems..
Lens of the camera isn't the sharpest one when shooting wide open the objects with close focusing distance. It was very annoying to see all skin details gone. With the X100F I haven't witnessed this kind of behavior that much, even though the lens is the same old f/2 lens as in the older versions. That was the main reason for me to sell the X100S.
From Helsinki to Tallinn it takes only 2-3 hours by ferry. If you're travelling to Helsinki, it's easy to take a day trip to Tallinn. Of course there are several flight connections as well, but at least in the summertime it's great to drink your morning coffee on the sun deck of the ferry while checking out views of the Finnish Archipelago and the Baltic Sea.
At least three companies operates year round between the cities: Eckerö Line, Tallink and Viking Line.
Image quality
When travelling I shoot jpg's only. There's no reason for me to fill memory cards with big raw files. I did some research with my full frame Sony A7ii body and 35mmm 1.4 lens vs X100F by just shooting the same object at same field of view and distance. Fuji's files were aproximately 30% larger than Sony's every time. So there's plenty of detail.
Another great thing are film modes that can be defined in advance. I love to shoot modes like Classic Crome, Provia, Velvia etc. Colors are great and post prosessing is much faster when using those presets!
Rotermann Quarter is in the city center, between the Old Town and port.
The area has a lot of funky new buildings mixed with old industrial buildings, transformed into unique architecture gems. There are several good restaurants and bars like Tap Tap & Brewdog to mention a few.
Speed
The X100F seems very capable for action shots as well. Autofocus works well. Generally menus and settings work smooth and fast! Start up time is pretty fast too.
Telliskivi Creative City is located in a former industrial complex in Kalamaja. There are many small designer stores, studios, places to eat and drink, photo galleries, and a lot of street art. You can even watch various sports events in the fifth floor of an old factory building.
Nightlife is active there as well. You can sit in an old railroad wagon in a bar called Peatus. Also F-hoone, Kivi Paber Käärid & Hill Hill are worth a visit.
The hipster district of Tallinn. This once closed Soviet border zone located between the scenic Tallinn coast and Old Town hides some nice cultural happenings.
There are a few great bars to see the sunset. Real gem is a summer garden called Pada. If you're into tech house, techno or other electronic music it's a must visit.
High-ISO performance
These shots from Pada (above & below) are all taken with ISO 8000 - 12800. Image quality is still pretty damn good. At least very usable for internet purposes. It's actually quite impressive what kind of pics you get when shooting f/2 hand held in almost total darkness.
Design
The design is the closest any digital camera has gotten to a film rangefinder. I just love how the X100F feels and looks. It's a pleasure to carry it around day and night on your shoulder. It doesn't weight too much but still feels solid and well build.
It doesn't get much darker than this in the summertime. The sun is already rising in Tallinn harbor at 4 am.
From Colombo Fort to Galle railway station it takes about 2-3 hours. The trains are usually packed and it's hard to find a seat. To make the trip bearable you can buy some refreshments, fruits and other fingerfood from gentlemen like this guy. He sold us some weird looking pastries.
The fortress and harbor of Galle was built first in 1588 by the Portuguese, then extensively fortified by the Dutch during the 17th century from 1649 onwards. The fort has a colourful history, and today has a multi-ethnic and multi-religious population.
The streets of Galle are full of local kids. There are many schools and churches where the kids go wearing their blank white uniforms. This kid was quite interested about my camera. After I took photo of him, I let him shoot couple of portraits as well.
At Mirissa Beach we reunited with our fellow travellers from Finland. Noora & Sampo came to Mirissa from inland after seeing those tea plantations and green mountains at Ella.
We decided to head to Mirissa after studying that it should be a small village where surfers hang. Reality was a little bit different with plenty of beach bars and many people. Luckily our guest house was in the quiet part of Mirissa. The Turtle bay across the street was actually the best beach for swimming and snorkeling all alone with those giant sea turtles!
There were couple of excellent portrait locations too, see the next photos!
We spent some stormy nights at Hikkaduwa. In Sri Lanka there are massive power outages in certain areas, and electricity can be off for days. So be prepared with a torch and a power bank. To be honest power outs maybe have nothing to do with storms. Most likely the production of electricity just don't match with the consumption.
One of the best places in Hikkaduwa to hang is a beach bar called Joint (in south wind). Easy going atmosphere with reggae beats in the afternoon turns into psychedelic downtempo when live dj comes in. Beach fires light up as the evening blurs into the night.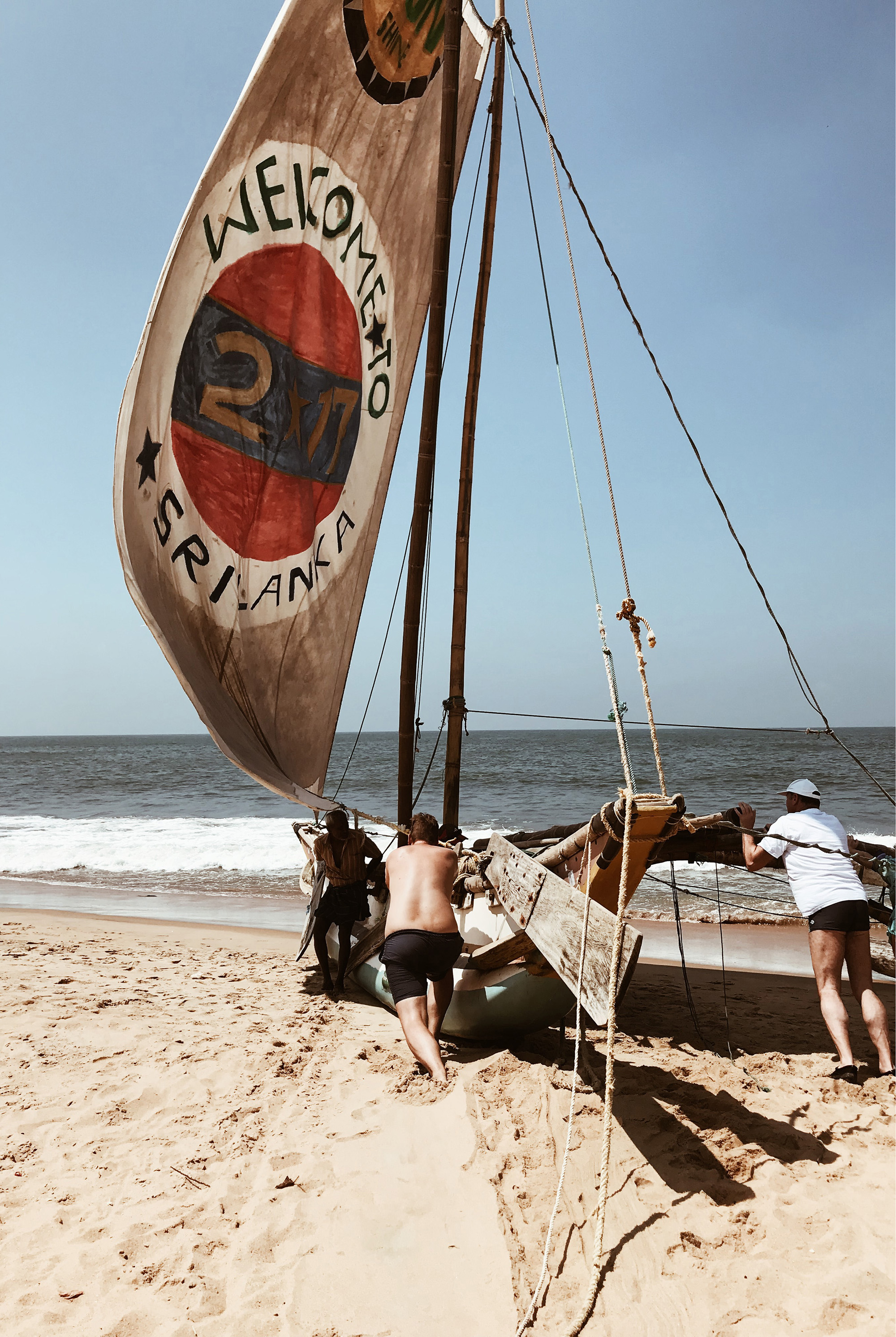 Last days went by in Negombo, a stopover town near the airport where travellers are either arriving or leaving the country. The infrastructure of Sri Lanka is still quite bad. A 50 kilometer journey takes an hour or two... or three. So nobody wants to miss their flights and people are just killing time before departure.
I spent most of my time in there pushing local catamarans to the sea with other western travellers. The beach isn't that bad, and there are couple of decent restaurants too. But don't waste your time too much there because there's so much to see in this beautiful island of Ceylon!